Vinnova – Vinnväxt
VINNVÄXT is a programme that works via a regional competition. The aim of the programme is to promote sustainable regional growth by developing international competitiveness in specific growth areas.
The winning initiatives receive ten years' financing, worth SEK 4–10 million annually. The aim is that the winners will have become established as nationally and internationally strong and attractive innovation environments within ten years.
More about VINNOVA and VINNVÄXT
1. Process IT Innovation
Taking the region's processing and engineering industries, and their ICT stakeholders, into the academic world and into business.
2. Peak Innovation
Developing the region of Jämtland into an international leader in research and business development in tourism, sports and the outdoors.
3. Framtidens Bioraffinaderi
Building the biorefinery of the future based on raw materials from forests and energy crops.
4. Fiber Optic Valley
Cutting-edge expertise in fibre optics, focusing on fibre optic products for the engineering and communications industries.
5. Triple Steelix
Bergslagen has a significant number of essential processing industries and steel companies; along with technology and service companies they form a strong steel cluster.
6. Geo-Life Region, EPX
Increasing awareness of the benefits of geographic information technology in new areas of use, such as within healthcare.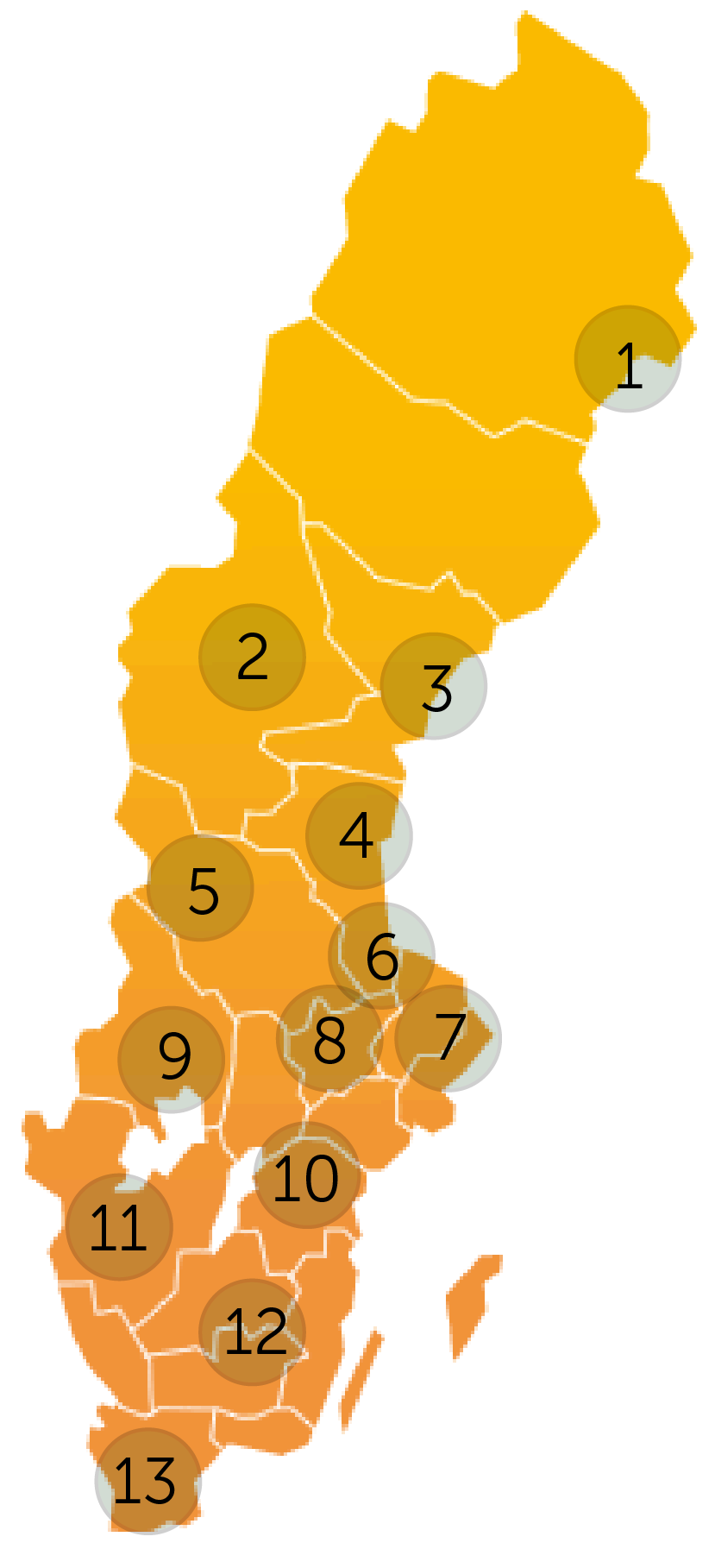 7. Uppsala Bio
Creating new ways of providing long-term strength in the life science sector's competitiveness and growth in Uppsala, in close cooperation with industry, academia, healthcare services and the community.
8. Robotdalen
Developing robotics for industry, logistics and the health sector. Research and development projects run by businesses and researchers, supporting new ideas from prototype to finished product.
9. Paper Province 2.0
Developing and renewing traditional forestry and creating a new hub of expertise for the forest-based bioeconomy.
10. Hälsans Nya Verktyg
Developing new products and services to meet the future's increased need for healthcare. The focus is on efficient, home-based care.
11. Smart Textiles
Establishing the west of Sweden at the international forefront of designing, developing and producing next-generation textile products.
12. Smart housing
Creating smart housing and sustainable environments for the Swedish market and for export.
13. Skånes Livsmedelsakademi
Increasing returns on capital that is invested in the food industry through innovations that create products and services with a high level of added value.